Bekasi City, West Java, June 2019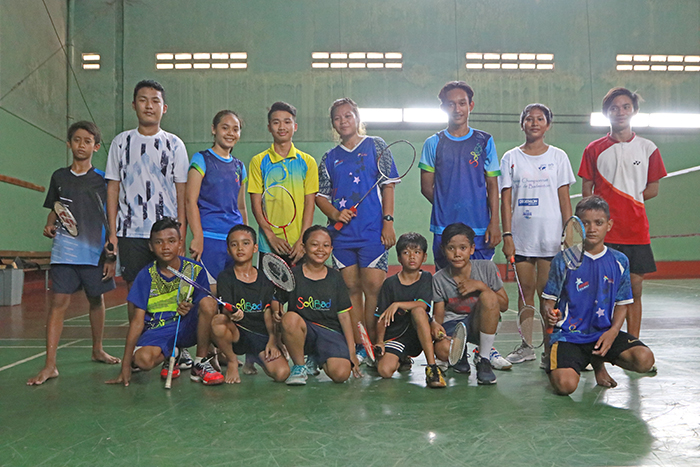 "In the future, I want to be like a Ginting (Indonesian national man single champion)… ". There is a Badminton team in Bekasi, for children who are living in a garbage dump or around and near the area. It's been almost five years the team started. Through competitions, practicing with teammates, seeing professional players and so on, the Children's possibilities expand.
The team's name is Sepuluh Bintang (10 stars). At present, 34 members from 9 to 17 years old take part in the program. They practice at the badminton hall near the garbage dump, few times a week with the coach. More than half of the members live in the garbage dump in Bintara Jaya, West Bekasi district and many of their families make a living by collecting garbage. Some children do not attend school.
Drop out of elementary school
"I want to help my parents." Komarudin san (14) said. Since he dropped out of Elementary School, he has not been in school. He works to pick up and collect garbage then sells them to vendors as his parents do. However, only a small amount of money can be obtained. According to them, even if 1 kg of plastic waste is collected, it will sell for Rp 5,000, and for 1 L plastic bottles it is Rp 4,000, and only Rp 1,500 for 1 kg of paper.
Nor Holik san (15) dropped out in the sixth grade of Elementary School, and, like his father, he is doing waste collection of a neighbourhood association (RT on Indonesian language).  He works in the morning a few times a week. Although he received an elementary school graduate qualification as a recommendation from the foundation who supports the team, he didn't go to Junior High School. "I don't talk about school with my parents," and he didn't talk much about school.
Mawar Angelina san (40), who lives nearby and helps the team's activities, said, "For children living in a garbage dump, it is common for them to do the same job as their parents. also some parents want them to earn money by collecting  garbage instead of studying. " She explains the situation like this.
To create opportunities for those children to expand to other environments than garbage dump and this area, "A non-profit organization called "Solibad (Headquarters in France) which is conducting badminton charity activities, has projects in 10 countries now worldwide, and Yayasan (Foundation) Bintang Kidul in Yogyakarta works together with Solibad and built the team. They built the badminton club "Bintang Solibad Indonesia" and currently it has 10 teams including Sepuluh Bintang in Bekasi and Sepuluh Bintang is the first team they made. Also this club is registered by the Indonesian Badminton Association (PBSI) and they join tournaments too, at every level of competition, including the National Circuit.
Learning respecting, appreciating
Komarudin san and Holik san have joined the team since few years ago and have attended the practice class that is held few times a week. At the badminton hall, it was impressive to see them chasing the shuttlecock with so much enthusiasm. Komarudin said, "I learned the greetings and the feeling of respect for the other person" through being part of the team, society and practicing badminton, and Holik san said " I learned the feeling of gratitude." When I asked about dreams in the future, they smiled saying, "I want to be an athlete like Ginting (Indonesian national man single player)".
After the practice, in addition to having meals, there is also a day when there is a teacher who teaches study in the meantime. 
There is no cost for joining this team
Raphael Sachetat san (47) who is the President and founder of Solibad said " First of all, we want to help them build up their confidence, let them realize they can be someone. Badminton is just an excuse to realize that there is more than their environment and that they can think outside the box." . 
This article came from Jakarta Shimbun and translated by Uemura Natsumi